25th Jun 2019
Lavergne Changes It's Identity
Today, after 35 years on the market, LAVERGNE is releasing its new brand platform. Why? Because making plastic circular is an opportunity the world can't miss. Upcycling plastic is a win for all and we want industry leaders to reap its benefits. While everyone is talking about circular economy, we are making it happen. Our new identity reflects LAVERGNE's vision for a more sustainable future and our desire to share it with the world.
As our company expands to the new markets, we wanted to revisit our brand to ensure that our brand lives up to our ambition and reflects who we are and what we do. At this tipping point in history, LAVERGNE brings the highest value out of every piece of plastic ever made and driving the competitive edge of the industry. The demand for resources is growing and upcycling plastic is an enticing alternative the world has been waiting for.
At LAVERGNE, We Make Plastic Circular
Our new identity includes a new logo, tagline, and brand image. All new publications, marketing and packaging will change accordingly.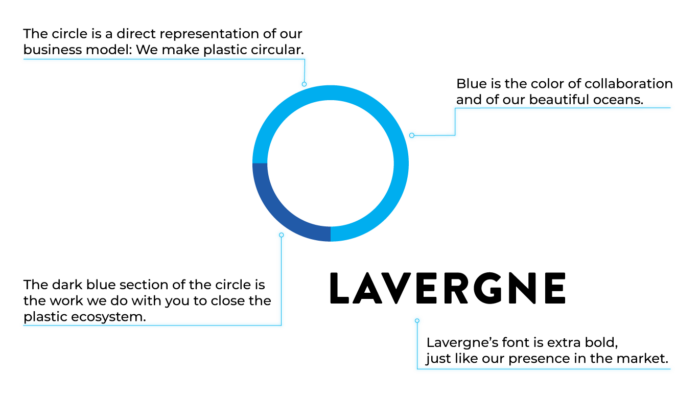 The new Lavergne logo, instantly recognizable, is a synonym for passion, reliability and collaboration. The bold blue circle is a graphic representation of our business model: by completing the light blue circle (the regular life cycle of plastic) with the dark blue section (upcycling). The off-centered positioning of the circle reflects our unconventional, ambitious and out-of-the-box mindset, aimed at making the impossible possible. As you may have noticed, we are also simplifying our name to LAVERGNE (Instead of Lavergne Groupe). Changes to the entire brand platform have already begun and are currently being deployed in all our branded tools.
Since 1984 we have been partnering with global leaders in recycled engineering resin and in developing circular business models. Plastic is an essential and sustainable resource and there is enough of it on Earth to meet all our needs for decades to come. However, much better ways to handle this material exist. Rather than burning or throwing it into the landfills, we can create new value while keeping nature safe.
Our promise has a symbol: a new identity. But it also provides a framework for our actions: our expansion, our projects, our new processes. To achieve this, we will need everyone. We work closely with clients and partners to close the blue circle and create resins that are better than the virgin counterpart. LAVERGNE technology can fulfill our clients' needs without creating new plastic. Ever.
You are a key player in our organization. We want our brand to acknowledge this reality. We want your company to thrive and we invite you to create a circular economy for plastic together.
About Lavergne Groupe Inc
Lavergne is a global polymer technology company, with offices, facilities, warehouses and service centers around the globe. We make high-quality engineering plastic resin from post-consumer products with our unique & customizable compounding technology. We provide sustainable solutions for some of the biggest companies across the world. Lavergne's headquarters are in Montreal, Canada. Further information about Lavergne is available at lavergne.ca, or follow us on Twitter @LavergnePlastics. At LAVERGNE, we make plastic circular.